---
Black Women supporting Black Women.
---
Handmade products made by Black Women.
Fanm a Fanm is a global fair trade shop founded by Adriyanna Andreus where customers can purchase beautiful products handmade by Black Women artisans around the world. We practice fair trade principles, and every purchase from Fanm a Fanm generates meaningful income for the artisans and their families.
Founded in 2016 on the idea of highlighting Black women, sharing family recipes, personal development and more; Fanm a Famn (Women to Women) is space for Black Women to be praised, to learn and to share.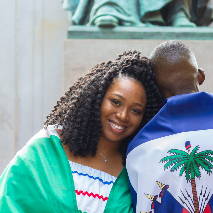 Adriyanna R. Andreus founded Fanm A Fanm in 2017. She studied Political Science with a concentration in International Relations and Community Development at Howard University while gaining experience in politics, social justice and civic engagement both locally and internationally. Currently, she is the creator of #Home2Haiti, a non-profit to send young Haitian American adults from all over America to Haiti as a gift in order to diminish the growing division between Haitian and Haitian American communities around the world, to strengthen the sense of solidarity between Haitian youth and communities globally, and to promote the idea of a trip to Haiti for all of the Haitian Diaspora.
Recently she was featured on Al Jazeera's town hall highlighting 20 DC students who are instrumental in the 2016 Presidential Elections. She has been quoted on MSNBC, Politico and featured on CNN.